Giving Wisely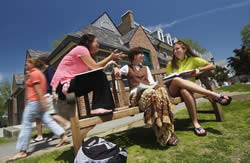 Give now, or give later?
A significant outright gift to The Hotchkiss School will allow us to meet immediate objectives. In turn, it will give you maximum tax benefits, especially attractive if you are in high earnings years. It can also be the simplest gift to arrange.
You may, however, prefer to leave your assets and cash flow alone until your death, and instead make your gift through your estate. Even though we cannot use this gift immediately, it will be critically important to our long-term financial strength and help ensure our ability to meet the opportunities and challenges the future will present us.
To make a gift from your estate, you use a will or revocable trust. You may also use life insurance or the balance remaining in your retirement plan. These gifts help you keep your lifetime financial planning flexible, although they provide only limited income tax benefits.
You will need professional assistance to set up most estate-plan gifts.
How can a gift pay you back?
Your gift to The Hotchkiss School does not have to be made outright, because we offer gift plans that pay you income in return for your contribution. You can receive fixed or variable income, take payments for your lifetime or for a term of years, and direct the income to beneficiaries other than yourself. In essence, you make a contribution to us yet retain benefits from what you give away.
Your charitable deduction is based on the full market value of the assets you give us, minus the present value of the income interest you retain. The higher the income payout, the lower the deduction.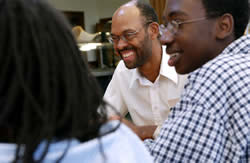 These flexible, creative gifts address a variety of your planning objectives. For our part, the return of income allows you to consider a more substantial gift to us than you might be able to afford in an outright format. Even though we cannot use these gifts until the death of the last income beneficiary, they give us long-term financial strength that will sustain us in the future.