Ways to Give
Give an Asset Instead of Cash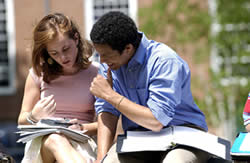 Using appreciated securities to make your gift can deliver more tax benefits to you than using cash.
Giving us personal property or business interests may be more beneficial than continuing to maintain them.
Plan a Gift in Your Estate
Your bequest helps ensure that we do the work that you support far into the future without affecting your assets during lifetime.
We offer a wise, charitable alternative to the double taxation awaiting your retirement plan in your estate.
You can turn surplus life insurance coverage into a charitable gift to The Hotchkiss School, or use a new policy to create an endowment from income instead of capital.
Partner With Us in Your Giving
Make a gift to our pooled income fund, and receive both income back and the benefits of a charitable mutual fund.
You can get a charitable deduction plus cash to use elsewhere with the part-gift/part-sale, charitable bargain sale.
You can donate your home and continue to live there.
You will receive stable lifetime payments that are taxed attractively when you create a charitable gift annuity.
You can receive income to help you meet many family obligations from a charitable remainder annuity trust or a charitable remainder unitrust, two of our most flexible giving options.
Increase your estate for your children while delivering years of income to The Hotchkiss School with a charitable lead trust.
How do I start?
To find out your giving options, go to Gift Plans. Discover the variety of funding choices at Assets You Can Give. Compare the plans and see which come closest to your needs at Goals & Benefits. When you're ready to hear more, complete the Information Request Form for follow-up information from us.