Pooled Income Fund
CLICK HERE FOR A DETAILED EXPLANATION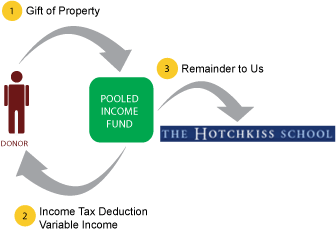 How It Works

You transfer cash or securities to the pooled income fund.

The trust issues you units, like a mutual fund, and pays you, or up to two income beneficiaries you name, the annual income attributable to your units for life.

The principal attributed to your units passes to The Hotchkiss School when the last income beneficiary passes on.
Benefits
You receive gift credit and an immediate income tax deduction for a portion of your gift to the trust.
You pay no capital gains tax on any appreciated assets you donate.
Income can exceed dividends you were receiving on the securities you donated.
You have the satisfaction of making a gift that benefits you now and The Hotchkiss School later.
More
To learn more about our pooled income fund, Email us, complete the Information Request Form, or call us at (860) 435-3263 so that we can assist you.