The Duncan Family Scholarship: a Multigenerational Connection That Makes Hotchkiss Strong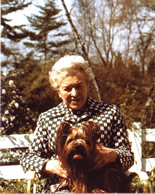 Craig Duncan '66 spent the first 11 years of his life in Peru. "My father, John Duncan '38, worked with W. R. Grace & Co., a Latin American conglomerate with diverse interests in sugar, -shipping, textiles, paper, and mining, and interests in 60 countries," he says. "It had been founded in Lima, and that's where we lived."
After Hotchkiss, Columbia, and Harvard, Craig worked for Citibank, living almost all of the next 45 years in Latin America: Chile, Colombia, Ecuador, Mexico, Venezuela, and elsewhere, always working with Citibank in precious -metals mining. Having lived almost all his life in emerging markets gave him a personal perspective on the lives of those with significant financial needs - especially the need for better schooling.
"Both my grandmother and my father were great believers in education," he says, "and when my grandmother, Doris Duncan, was about 100 years old, my father, who was executor of her estate, thought it would be a good idea to work with Hotchkiss to develop opportunities for less fortunate people to get a first-rate education. She thought it was a great idea, too." They established a Charitable Remainder Unitrust in Mrs. Duncan's name and when she passed away, the funds were used to establish the Duncan Family Scholarship.
Under a Charitable Remainder Unitrust, a fixed amount of the trust's value is distributed on a regular basis to its owner, usually annually. After the owner dies, the remainder of the trust is -distributed to a nonprofit organization — in this case, Hotchkiss. Many alumni like such trusts because they provide significant support to the School, while at the same time guaranteeing a regular lifetime income.
Besides Craig and his late father, several other members of the Duncan family attended Hotchkiss: Bruce Duncan '42, R. Michael Duncan '49, Michael Duncan '79, Diana Duncan Boubin '82, and Timothy Duncan '84. That's an important aspect of the scholarship, notes Dean of Admission and Financial Aid Rachael N. Beare.
"Multigenerational connections at Hotchkiss are a powerful aspect of our community," she says, "and a legacy we work to sustain over time. They make a school strong, not just financially, but in terms of being tied to history. The Duncan Family Scholarship is a good example of this strong foundation. It extends the sense of tradition, of history." She adds that using various planned-giving opportunities, as the Duncans did, is an excellent way for families to leave a lasting gift to Hotchkiss.
Craig Duncan, now an -executive with International Minerals, a Latin American mining company listed on the Toronto Exchange, says he hears from recipients of the scholarship, all of whom are grateful for the education they are receiving at School. "I get the letters that the students write," he says, "and from what they say, it's quite evident that when you're less fortunate, you appreciate opportunities more." Because Hotchkiss is a -boarding school, Rachael Beare points out, "we can be committed to all sorts of diversity in a way that day schools can't be, because their enrollment is largely limited to their own communities. Endowed funds like the Duncan Family Scholarship give our school the ability to reach out more broadly, and help make our goals a reality."
Photo captions:
Top, Cast members of the Hotchkiss Dramatic Association's "Beauty and the Beast" received a standing ovation -during each performance of the -production; Right, Doris Duncan, in whose honor the Duncan Family Scholarship was founded