Red Buoys & Serendipity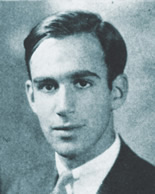 When Anne Munch sent a piece of artwork to Hotchkiss recently in memory of her late father, she had no idea that the artist was also an alumnus and had known her father at School. "When Hotchkiss revealed the connections, it came as a surprise to me - complete serendipity," she says.
But she soon found out that William Kienbusch '32, the New York artist who spent much of his later life in Maine painting seascapes, had been a friend of Munch's late father, Judge J. Howard Rossbach H'31, who was a Commissioner of the Securities and Exchange Commission. "Not long ago," she explains, "I saw some of their correspondence, and a photo of them together at School."
Originally, the work, an 11-by-14-inch drawing in oil pastels called "Three Red Buoys," had been selected for donation by Munch's mother, Eleanor Rossbach, an art collector who died in 2005. "Although my mother was too ill to specify where the art donations should go, I knew that Hotchkiss meant a great deal to my father," says Munch. "He also loved the water, whether fly-fishing or boating, which could be another reason why my parents selected this particular piece to purchase. So donating the "Three Red Buoys" to Hotchkiss seemed a good fit."
Kienbusch's drawing is "interpretive, loose, active, lively, and very colorful," says Charles Noyes '78, head of the School's Art Department. "It is now on display in the Alumni and Development Office, so students - or anybody coming to the School - can enjoy it."
Noyes points out that a gift of fine art is valuable in ­several ways. "Obviously, it contributes to the overall beauty and the interest of the School itself, the physical surroundings," he says. "But it's a real teaching tool as well. Having the actual work here, instead of on a slide or in a book, makes art more relevant and accessible to kids," he explains. "That means it isn't something remote, but real. And to have a fine piece done by an alumnus adds another dimension; it shows students that there are successful Hotchkiss graduates who have devoted their lives to art."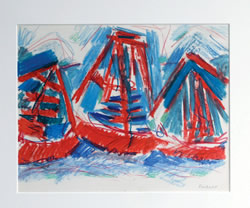 After graduating from Princeton, William Kienbusch studied in Paris, then worked in New York with top abstract expressionists of the 1950s, including Arthur Dove, John Marin, and Marsden Hartley. In his later years, he concentrated on Maine, where he especially enjoyed painting and drawing scenes of the coastal islands. His work is found in major museums, including the Whitney Museum of American Art, the Brooklyn Museum of Art, and the Smithsonian American Art Museum. He died in 1980.
In a 1968 interview included with the Smithsonian collection, Kienbusch credited the former Hotchkiss art teacher Robert Osborn with helping to develop his love of art. "Osborn had a very great influence on me," he is quoted as saying, "because he was the first artist I ever knew, and he was a very enthusiastic man. … We had the studio under the headmaster's house where they used to store things for the garden. And he would set up these still lifes, and maybe five or six of us would go down there and work."
Anne Munch's mother had collected art works for decades before moving from the East Coast to Oregon to be nearer her daughter. "There really wasn't room for everything here, so we decided to choose some works to donate," she says. "I wish she could know that the Kienbusch piece is now hanging at Hotchkiss. Both my parents would be delighted."
Photo captions:
Top, William Kienbusch, May 1956. Image originally photographed by Martha Holmes and is courtesy of the Kienbusch papers, 1920-1979, in the Archives of American Art, Smithsonian Institution. Above, Yearbook portrait of J. Howard Rossbach H'31