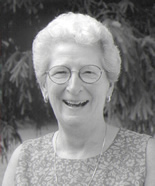 Anne Bowen
When the late Jerry Bowen '42 asked Anne Hazen to marry him in 1957, she said, "I never heard of that school you work at, let alone the town it's in!" But fortunately for Hotchkiss and for many of the alumni, staff, and faculty members that make up the extended Hotchkiss family, Anne gave it a try and made the move to Lakeville. The minute she stepped foot on campus, she loved it and has never regretted her decision.
Over the years, Anne has had the opportunity to know Hotchkiss well on many levels – as a parent, a faculty spouse, a volunteer, and an employee. She is a great friend of Hotchkiss and is, of sorts, an unofficial ambassador for the School. Anne was raised in an academic family. She learned growing up that no matter how poor you are, there are people worse off than you. She was told, "You need to think carefully about giving money away. In other words, you should have a social conscience." Today Anne says, "I take giving money away very seriously. When Jerry died in 1991, I had to consolidate his causes and mine. I spent quite a bit of time making decisions. I have always lived within my budget, another thing I was raised to do, which is a good thing.
In addition to her annual gifts to the School, Anne committed her support to the Music and Arts Initiative. She also has made a provision for Hotchkiss in her will so that her support for Hotchkiss will continue in perpetuity. Anne says, "As I said at our retirement party, in many ways I didn't marry Jerry, I married The Hotchkiss School."