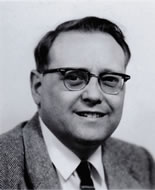 John Bigelow '44
At the end of World War II, a couple of years after he had graduated from Hotchkiss, John Bigelow '44 met the love of his life, a beautiful Frenchwoman named Claudette, on a ship leaving France for the United States. Like many shipboard romances, theirs ended shortly after the ship docked. John lost touch with Claudette – except that each year, he would send her a Christmas card, courtesy of her aunt. John was unaware that the aunt never delivered any of the cards, because Claudette had married someone else. Fourteen years later, Claudette and her then-husband were divorced. The aunt, who had saved all of John's Christmas cards, delivered the whole bundle to her niece, explaining that John had tried to keep in touch all those years and that he still loved her. In fairy-tale fashion, John and Claudette found each other, fell in love all over again, and were married in 1962.
Partly because it was John's ability to speak French – a skill he had learned at Hotchkiss – that originally let him get to know Claudette, he decided to endow a teaching chair at School. In his will, John funded the Bigelow Chair for Advanced French, with the specific hope that "heavier than usual emphasis be placed on advancing French conversational skills." He died in 2003.
The first holder of the Bigelow Chair, Sarinda Parsons Wilson, has taught French at Hotchkiss for 19 years. Promoting comfort in conversation in French is one of her teaching goals. "My students and I speak a lot of French outside our classes," she says. "In the dorm, in the dining hall, on campus." As part of their coursework, many of her students keep journals written in French. Among the courses she teaches is Advanced Placement French, which emphasizes what are known as "the four skills" – listening, speaking, reading and writing. "It's just the sort of emphasis on really understanding how the language is used that I think John Bigelow would appreciate," she says.